OPENING CEREMONY FOR VIETSEEDS STUDENTS OF 13TH GENERATION IN HANOI - UNFORGETTABLE IMPRESSIONS
Oct 18, 2023
OPENING CEREMONY FOR VIETSEEDS STUDENTS OF 13TH GENERATION IN HANOI - UNFORGETTABLE IMPRESSIONS
In the morning of October 15, in the cold air of Hanoi's autumn weather, 34 seeds officially came to the VietSeeds family. There were satisfied smiles, happy tears and even short films, recording the journey full of strenuous efforts and even emotional breakdown of 34 F13 students. 
"Outside the rolling mountains, the countryside,... I know a new horizon is waiting for me. Even though there are still numerous difficulties ahead, I will always try my best to overcome them." At the F13 Opening Ceremony, members of the VietSeeds Executive Board, sponsors, advisors, volunteers, families, relatives of students, Seeds and Alumni members listened to newbie's thoughts, feeling so sympathetic, loving and understanding them even more.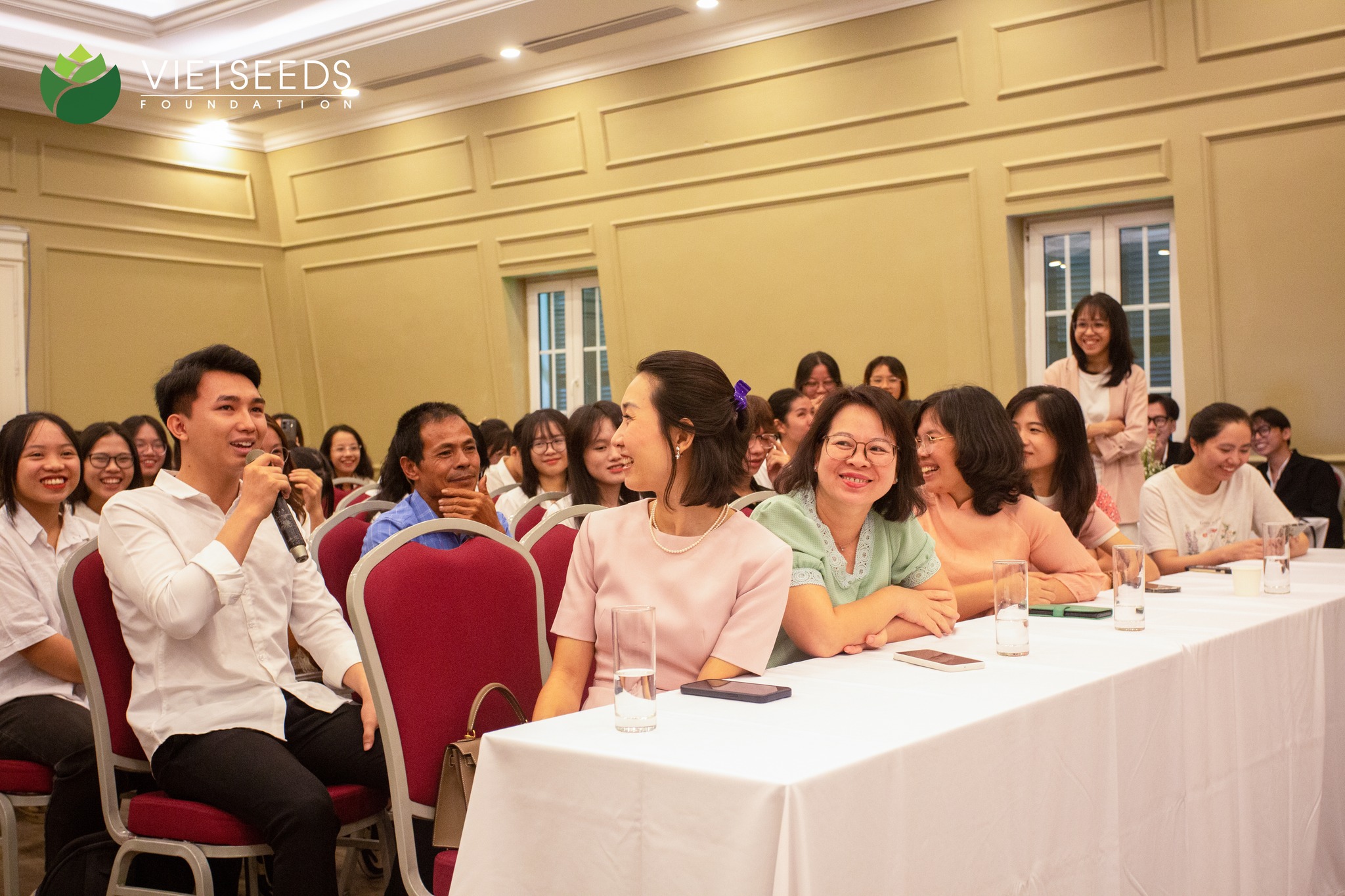 On the stage of the F13 Opening Ceremony, Mami Cat Tuong - Co-Founder & CEO of VietSeeds Scholarship Fund, fondly looked back at the long journey filled with many efforts and inspirations of F13 students. Through this, she conveyed her hope that the F13 generation seeds would have a journey of living to the fullest, wholeheartedly with the journey in the VietSeeds family and wholeheartedly with the path that you are on. 
Also at the ceremony, Mr. Nguyen Dac Hai Nam - representative of IEG Education Organization and Mr. Nguyen Anh Vu - representative of sponsor Temasek had emotional shares and were proud to accompany VietSeeds on the incubation journey. The seed generation creates social change, then there are many strong seeds that grow from the common roof of VietSeeds and bring positive values to the community. Besides, with the loving words of Mentors, Alumi and relatives of the students, VietSeeds seems to be further motivated to "be hard and not soft", persistently accompanying the students on their journey to pursue their dreams and conquer the university gate. 
The Opening Ceremony for F13 students in Hanoi has officially ended, but the emotional echoes will forever remain in each participant. Coming to VietSeeds is coming home. From now on, F13 will have more Bami, Mami, Mentors, and new brothers and sisters by their side, supporting and accompanying them on their future journey ahead. F13 - new seeds, new faces, you are the love and hope of VietSeeds! 
From the barren land of life, the 13th generation seeds of VietSeeds have risen strongly. To "empower tomorrow's generation to reach higher and further", VietSeeds needs the cooperation of everyone. Please support 13th generation VietSeeds students by joining us at:  http://platform.vietseeds.org/vi/sponsosor/login