VIETSEEDS - OFFICIALLY SEEKING MENTORS FOR THE MENTORING PROGRAM 2023
May 24, 2023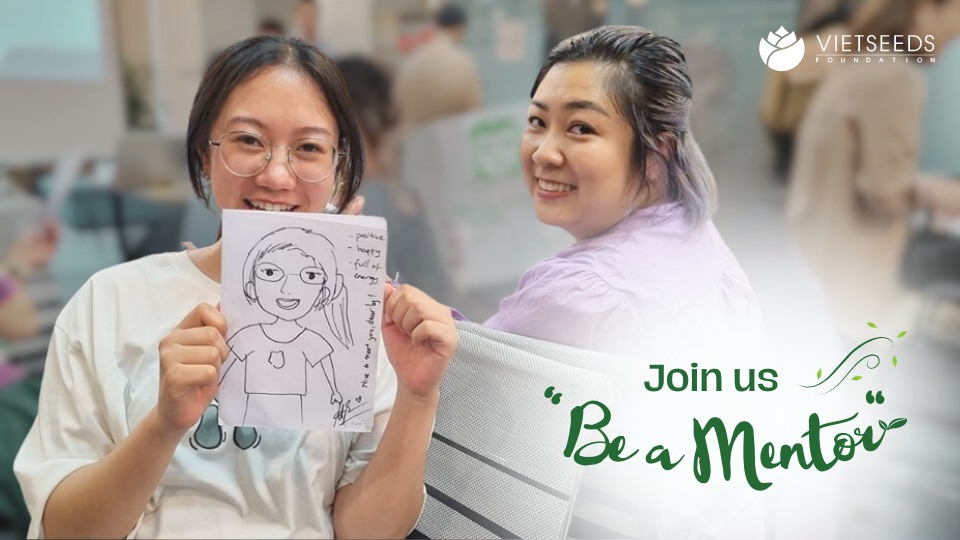 VIETSEEDS - OFFICIALLY SEEKING MENTORS FOR THE MENTORING PROGRAM 2023
"GROW A SEED - CHANGE A LIFE - TRANSFORM A NATION"
VietSeeds is a non-governmental organization established with a mission to support students from disadvantaged backgrounds in pursuing higher education and achieving their dreams. Through this, not only can students improve their family's financial situation, but they can also develop personally and contribute to the community.
We are seeking Mentors to join hands in uplifting the dreams and aspirations of today's young generation - the VietSeeds students.
JOIN US - BE A MENTOR!
Join us in being a mentor, and let's together uplift the dreams and aspirations of today's young generation - the VietSeeds students.
DETAILED INFORMATION ABOUT THE MENTORING PROGRAM
1. Target audience: Individuals living and working in Hanoi, Ho Chi Minh City, and Hue.
2. How to participate:
Complete the registration form: http://platform.vietseeds.org/vi/mentor/register
Deadline for application submission: June 26, 2023.
3. Information about VietSeeds and the Mentoring Program 2023:
Please see: https://tinyurl.com/VS-Brochure-Mentoring-2023 
4. What do you gain as a Mentor?
Expand your network with mentors, diverse sponsors, and the VietSeeds community.

Develop empathy and a sense of fulfillment with a community of motivated students.

Give and receive: Giving will bring you more than you expect.

Certificate of Appreciation for the duration of your mentorship.
5. What does it take to become a Mentor and contribute to our organization?
Dedicate at least 1 hour per month.

Commit to being a Mentor for at least 1 year.

Have a minimum of 2 years of work experience.

Have a passion for social activities and working with students.

Desire to support and accompany VietSeeds students in their learning and development.
6. Four stages to become a Mentor at VietSeeds:
Stage 2: Discussion (July 13 - July 24, 2023)




VietSeeds will have a direct meeting with you to exchange and understand your aspirations for joining the Mentoring Program 2023.
Stage 3: Connection with students (October 2023 - November 2023)
Stage 4: Officially become a Mentor at VietSeeds (From the end of November, 2023)
------------
For any further questions, please contact us via:
📌 Facebook: https://www.facebook.com/Vietseed/
📌 Email:
- HCM city: mentoring.hcm@vietseeds.org
- Hue: mentoring.hue@vietseeds.org
- Hanoi: mentoring.hn@vietseeds.org
We sincerely look forward to your interest!