MEETING WITH MENTOR TRAN LE QUYNH NGA - ONE OF THE MENTORS WITH THE MOST MENTEES IN VIETSEEDS
Aug 15, 2023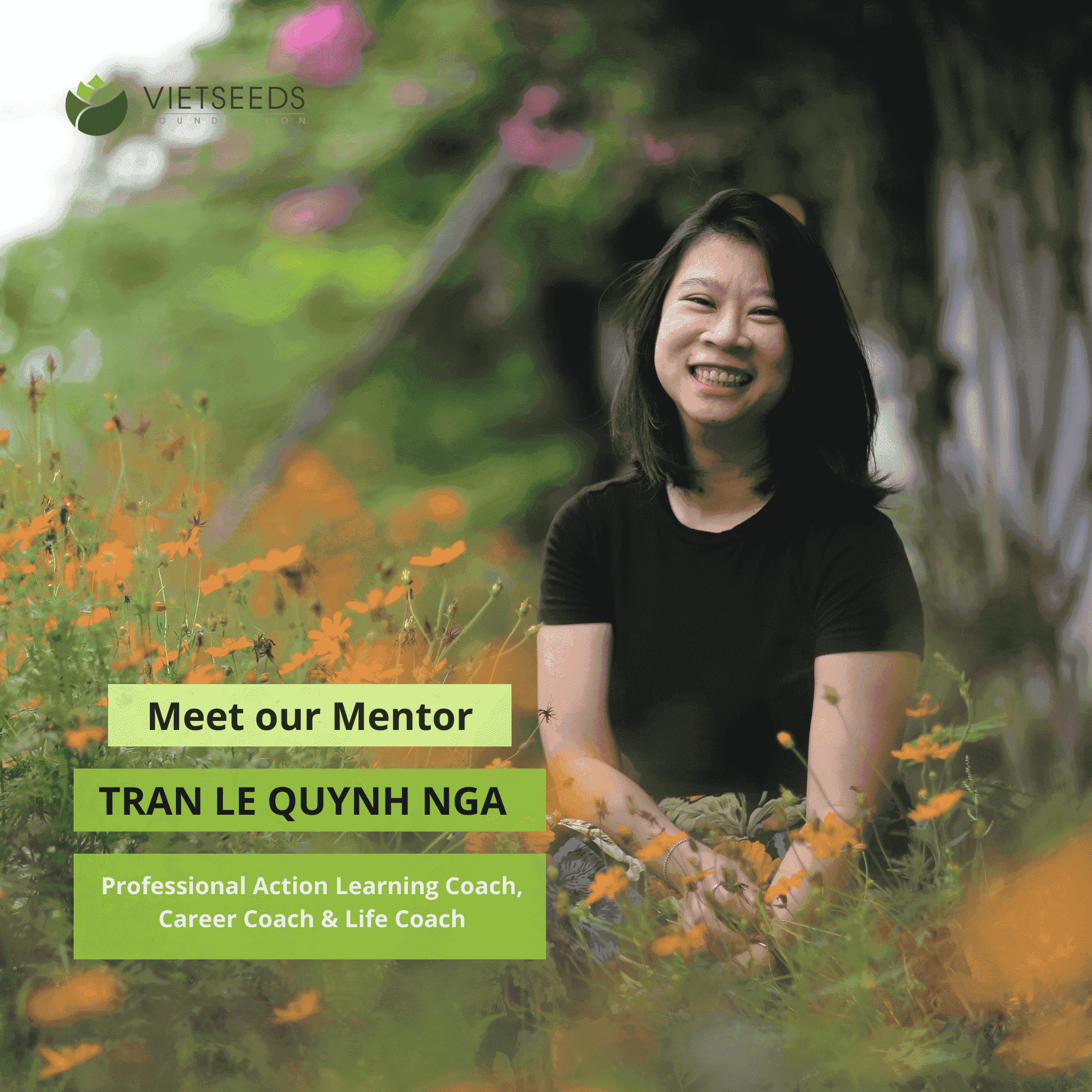 MEETING WITH MENTOR TRAN LE QUYNH NGA - ONE OF THE MENTORS WITH THE MOST MENTEES IN VIETSEEDS
Today, we have an appointment with Ms. Tran Le Quynh Nga - a familiar mentor to VietSeeds students in Ho Chi Minh City. After 15 years of working in various positions at multinational companies and large corporations, she is currently a Professional Action Learning Coach - a partner of WIAL Vietnam. She specializes in developing leadership skills through the learning and action capabilities of team members in organizations. In addition, she works as a freelancer in the roles of Soft Skills Trainer and Career Coach & Life Coach for individuals. Let's sit down and have a chat with her!
Q: I heard that you have a lot of mentees. Is this a big challenge for you when each person has a different personality and development journey?
A: I have 2 mentees of the F9 generation and 3 mentees of the F12 generation. When I have the experience of accompanying two different generations with only a three-year gap, I can clearly feel the difference between the two generations. And within each generation, each individual has their own unique characteristics and values, which lead to different ways of thinking, prioritizing, and setting goals. Therefore, honestly, I have to constantly reflect and learn, find ways to sharpen my mentoring skills as a mentor for my mentees in order to find the right and effective direction for myself and for my mentees, so that I can accompany them on their long journey and bring value to them.
Q: What is the greatest value you want to give to your mentees, and what is the greatest value you receive when accompanying them?
A: The biggest reason why I became a trainer-mentor-coach is to live up to my core value: dedicating myself to others. Looking back at the winding path I have taken, I can clearly see the core value that helps me choose how to live my life without regrets. Therefore, I want to help those who are confused (because they are not clear about the path they want to take) and lost (because they feel there are too many options) to learn how to choose a more effective, suitable, realistic, or simply, a clearer path for themselves through the three capabilities of "thinking, learning, and action." To achieve that, I have to learn and practice a lot by myself. And surprisingly, by becoming a mentor, I have been able to accompany my mentees, who have given me time and opportunities to learn, and to draw valuable lessons from the past four years to continue becoming an effective mentor for myself and for the next mentees.
Q: Which is the story/significant memory with the mentees that you still remember up until now?
A: Each time I recall the first year of accompanying mentees, it makes me feel amused and sympathetic towards my mentees. Although I work as a mentor at VietSeeds, I often utilize coaching skills, which involve asking questions. Honestly, I ask a lot of questions, and sometimes my mentees would struggle to answer them, to the point where they couldn't even finish a half-filled glass of water because they were constantly thinking and trying to respond to my questions. They even admitted later on that they felt nervous whenever they met me because they didn't know what I would ask and how to give the right answers. However, now they have become accustomed to asking themselves questions, critically analyzing and seeking answers on their own, without needing as much guidance from me as before. It brings me joy to receive messages like, "Dear sister, I not only exceeded my initial goals for graduation grades, but I also surpassed myself when stepping out of my comfort zone, confidently presenting and debating in front of many people."
They shared in a reflection post that, "Through these significant questions I had to confront, I learned that I truly need to always ask such questions in life, to understand the meaning of my actions, my desires, whether they are truly important, and do bring me happiness or not. Maybe at a certain point, I haven't found the answers yet, but those questions will always be there, urging me to seek the answers."
That's the most meaningful thing my mentees have brought to me: the personal growth and development every day, from cognitive abilities to learning and actions, while accompanying me on this journey.
Q: If you could send a message to future mentors of VietSeeds, what would you say?
A: Every individual who aspires to become a mentor undoubtedly wants to fulfill the mission of "sharing meaningful things with others." And that very motivation propels us to develop ourselves every day, helping us live in alignment with our personal values. Isn't that a priceless gift?
Dear future mentors of VietSeeds, to carry out that mission professionally, first and foremost, let's equip ourselves with mentoring skills so that we can confidently impart the smallest nuggets of knowledge and experience to our mentees, enabling them to create the greatest achievements.
Q: Thank you very much, Ms. Nga. I hope you will continue to accompany VietSeeds and have more mentees on the upcoming journey!