LOOKING BACK AT EMOTIONAL MOMENTS AT THE WELCOME CEREMONY OF F13 GENERATION IN HCMC
Nov 01, 2023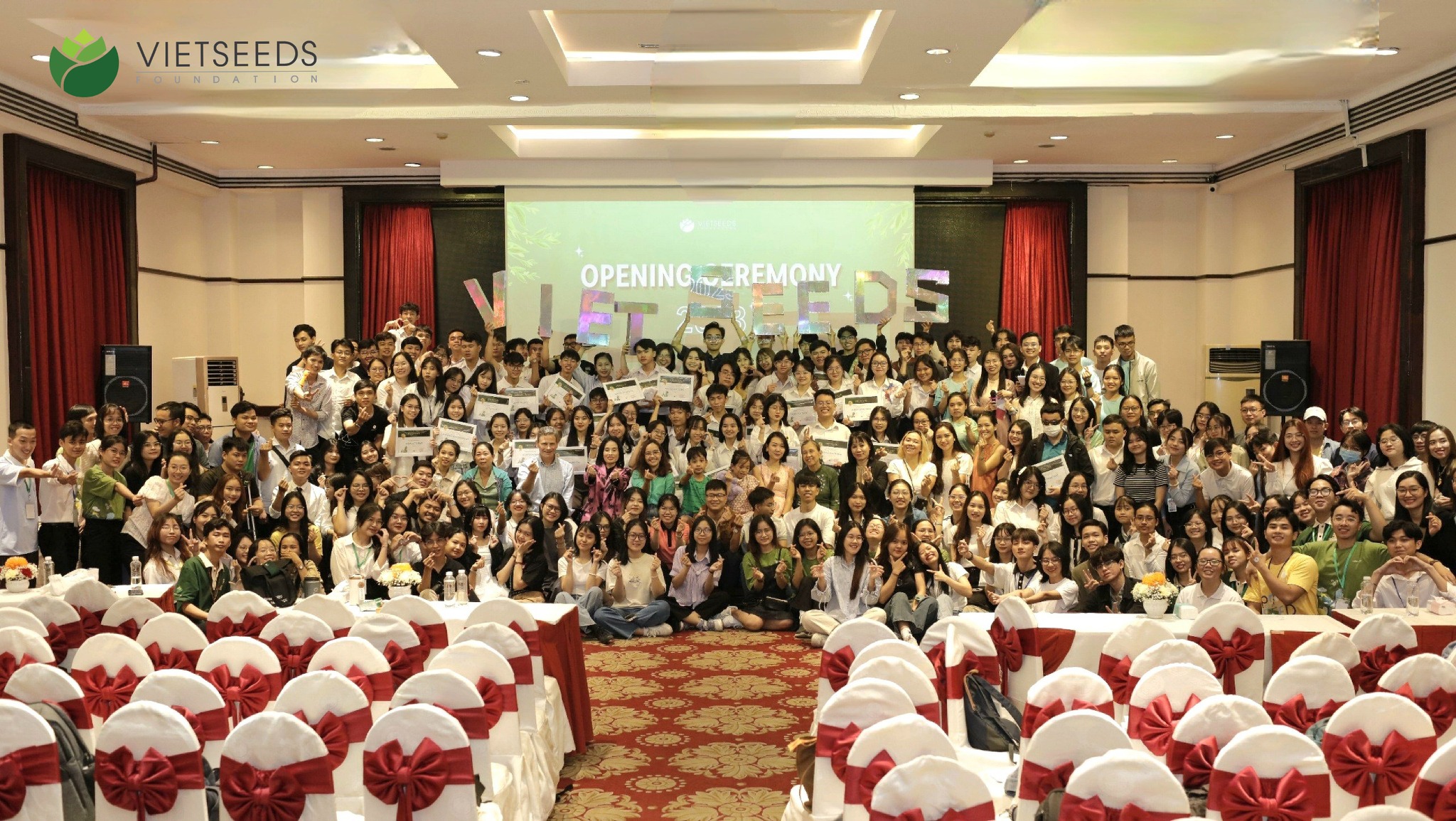 LOOKING BACK AT EMOTIONAL MOMENTS AT THE WELCOME CEREMONY OF F13 GENERATION IN HCMC
On October 29, the Opening Ceremony for new students of the F13 generation of VietSeeds took place successfully in a cozy atmosphere, with extremely lovely and emotional moments.
The ceremony welcomed the participation of Ms. Huyen Ton Nu Cat Tuong - Co-founder and CEO of VietSeeds Scholarship Fund; Ms. Nguyen Duc Thuy Anh - Program and Admissions Director - Co-founder of VietSeeds scholarship fund; Ms. Bui Tran Phuong - Member of Wisdom Seed Board and sponsor of VietSeeds, representative of sponsor U-Go Foundation and sponsor Biti's. Along with that was the presence of many sponsors, Mentors, student managers, alumni and VietSeeds students. In particular, in this solemn ceremony, the VietSeeds Ho Chi Minh City family welcomed 41 students of 13th generation- 41 new seeds full of resilience and internal strength.
Perhaps all the participants could not help but be moved by the story of Ms. Bui Tran Phuong's journey. She shared: "The support from the community helped me continue on the path to conquering knowledge - something for which I have never stopped being grateful. At the same time, I also keep it a part of me, becoming one of the core values to accompany me on my journey of striving for myself and spreading positive values to the community."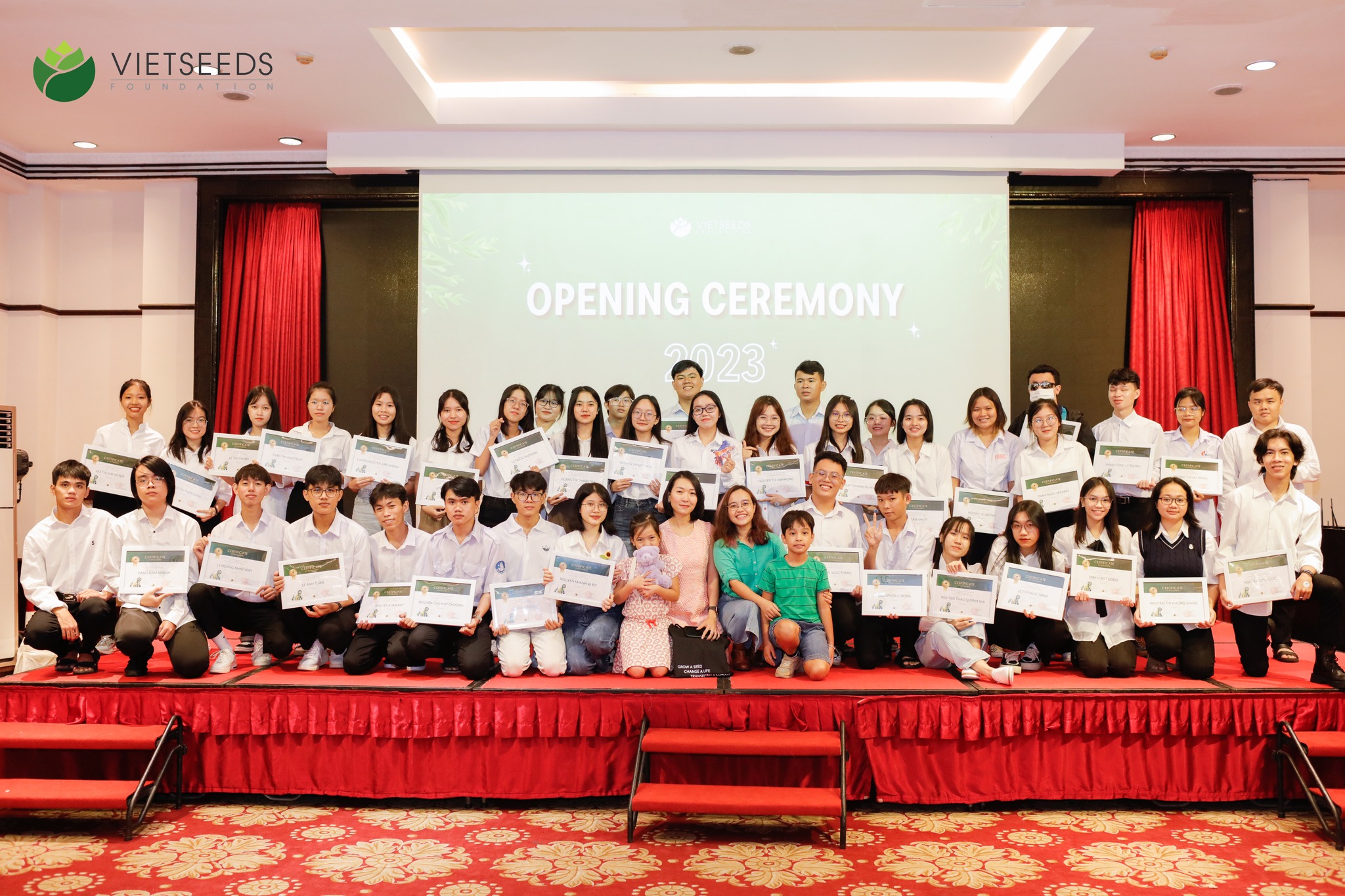 Also at the ceremony, Ms. Cat Tuong once again looked back on the 13-year journey of building and developing VietSeeds. That journey was not without difficulties and challenges but also full of sweet fruits. Up to now, many generations of graduates have returned to the common home of VietSeeds, helping and motivating the next generations, like the spirit of continuous giving that VietSeeds nurtures every day.
The opening ceremony for 13th generation students is also an opportunity for new students to sit down and review their past journey: From the time of diligently preparing documents for the interview round to the times when they tried to The courage to face yourself, step out of your comfort zone, or the emotional and restorative moments during family visits, and then the emotional breakdown when receiving an email announcing the results.
As soon as that meaningful journey ended, a newer and more brilliant journey opened. Entering the 13th year on the journey to pursue the mission of "bringing equal access to education to Vietnamese students", VietSeeds needs even more support from the entire community. Please support the 13th generation VietSeeds students by accompanying us at: http://platform.vietseeds.org/vi/sponsor/login